PMCA - Endorsed Purple Martin Cooperative Effort Launches New Gourd Ownership
Ellen Brockwell, executive director of the Purple Martin Conservation Association (PMCA), announced a significant event that will be of great long-term benefit to Purple Martins. Brockwell commented, "At the PMCA, one of our goals is to ensure that quality Purple Martin housing is widely available to consumers. John "Duke" Snyder, the inventor and patent holder of the Excluder, Starling-Resistant Gourds, wished to retire, and approached the PMCA, as he wanted to ensure the martin landlords and the PMCA could both benefit as he retired." Brockwell continues, "Both Duke's goals and the PMCA's were accomplished, as the PMCA has purchased all trademarks and patents from him. PMCA has since licensed all these to Songbird Essentials of Mexico, MO, and Songbird Essentials purchased from Duke all the equipment necessary to make his patented Excluder Gourds, as well as heavy-duty round entrance Excluder Gourds and replacement doors utilizing Excluder and other starling-resistant technology for most types of martin housing."
"The PMCA absolutely feels that Duke's Excluder Gourds are one of, if not the best, gourds for Purple Martins and their nesting success and for that reason we entered into our licensing agreement with Songbird Essentials, encouraging them to market the gourd as the PMCA recommended and endorsed Purple Martin gourd," Brockwell continued, "The PMCA is very grateful that as part of this agreement, the Toellner family, owners of Songbird Essentials, have agreed to donate 75 cents to $1.00 per gourd sold back to the PMCA, to help us with critical Purple Martin research and conservation projects."
Mel Toellner, President of Songbird Essentials, remarked, "We are very excited about this cooperative effort with the PMCA that will greatly benefit both Purple Martins and the Purple Martin colony landlords in backyards across the US and Canada." Toellner continued, "At Songbird Essentials, we plan to make 2014 the Year of the Purple Martin, as we communicate the benefits of our new PMCA-endorsed Excluder Gourds and Top of our Class Songbird Essentials Lone Star aluminum Purple Martin houses to over 4,000 independent retailers. Our goal is also to help Purple Martins and the PMCA - we hope this new project raises tens of thousands of dollars per year for the PMCA and also brings the PMCA many new members, as well as info on how to join and support their fantastic organization."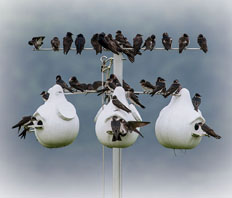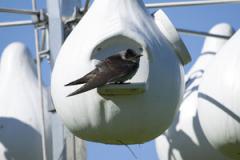 For further information on Purple Martins, the PMCA or Songbird Essentials, contact:
Ellen Brockwell, PMCA Executive Director - ellen@purplemartin.org - Phone: 814-833-7656
Mel Toellner, President of Songbird Essentials - mel@songbirdessentials.com - Phone: 800-269-4450
For short, informative videos on how to attract Purple Martins and other Songbirds, go to www.birdmanmel.com.
Posted Date: 2013-12-26