Meet the bird man. Be the bird Man.
By Michael J. Solender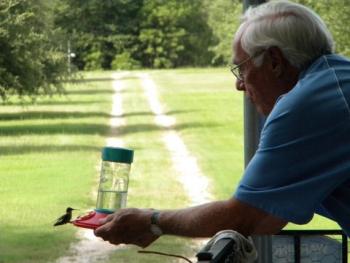 Retired radiologist Dr. Jay Whelan is the unofficial hummingbird whisperer of Myers Park.
Whelan, known by his birder pals as Dr. JB (for "Jay Bird"), has studied hummingbirds and their habits for more than 50 years. Visitors to his Myers Park patio find no fewer than six feeders, teeming with hummer activity.
How he became a whisperer:
- By inventing Dr. JB's Hummingbird Feeder. The unique hummingbird feeder provides a sturdy and innovative flow design that has become the industry gold standard.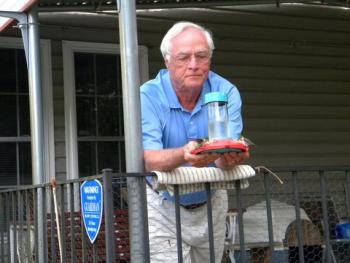 - By pursuing speaking engagements. Whelan is a frequent speaker and presenter at area / regional gardens and nature preserves including the Reedy Creek Nature Center, Daniel Stowe Botanical Gardens and the Hummer Bird Study Group in Fort Morgan State Park in Gulf Shores, AL. He's helped with hummingbird banding projects led by N.C. ornitholigists and is available to speak to garden clubs and groups that share his interest for the tiny birds.
So you want to be a hummingbird whisperer? Do this: Focus on nectar concentration.
"Be certain that your feeder has a nectar concentration of 4 parts water to one part table sugar," Whelan said. "My personal observation is that hummingbird activity is related to the level of sugar concentration in nectar. I use a 4:1 ratio in the spring and summer and use a 3:1 ratio in the fall when they need more energy just prior to their migration."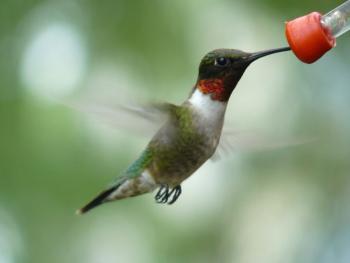 Do this: Locate feeders near popular flowers.
"Hummers need protein in addition to the pure energy from the nectar," Whelan says. "They get this from small insects they find when feeding from flowers. Salvia and butterfly bushes are very popular with hummers."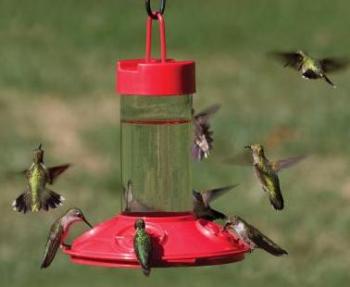 Do this: Place feeders near perches and protection.
"Hummers are very territorial and need places near the feeders to perch," Whelan says. "People may be surprised to know that they are at rest up to 80 percent of the time."
Don't do this: Wait around for hummingbirds in wintertime.
Hummer activity and sightings peak in our area in September according to Whelan, and then drop during the winter migration to Mexico, Central and South America. April is the month when they return to QC.
Photos by Carolina Bird Club, Carolina Nature, Dr. JB's Feeder, Dr. Jay Whelan
Posted Date: 2015-06-16