Songbird Essentials Premium Bird Seed Now Includes All-Natural Nitrogen Plus Technology
Which Means NO MORE BUGS!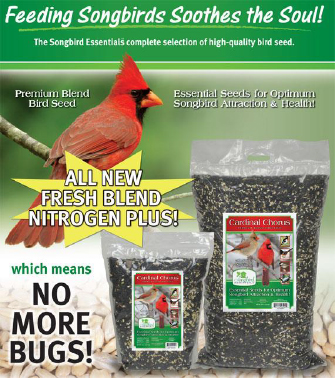 In an effort to keep your store filled with the best valued products, announcing next generation Songbird Essentials brand bird seed.  Now including all natural nitrogen plus technology which yields very long term shelf life utilizing the safest alternative for insect prevention.  The plain speak labeling and photos of birds attracted to each formula as well as preferred see-through poly bags continue to set the industry standard!
Download info on the complete selection of Songbird Essentials Seed  
Posted Date: 2017-08-21